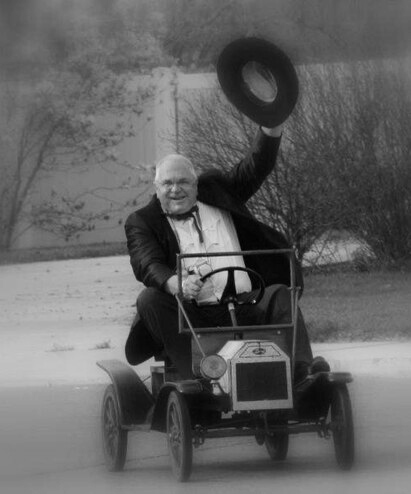 While surrounded by his family, Virgle Clyde Stillwell Jr., 80, of Cisco, TX passed through the veil and into eternity to be with his Heavenly Father and His son, our Savior, Jesus Christ, on May 16, 2023. Services will be held Saturday, May 20th at Edwards Funeral Home Eastland at 2:00 PM. Visiting hours will be Saturday morning from 10:00 AM to 2:00 PM. Burial will be held at Oakwood Cemetery in Cisco.
Virgle Clyde Stillwell Jr. was preceded in death by his parents, Virgle Clyde Stillwell and Drusilla Allene Phillips; and his fourth son Norman Earl Stillwell.
He is survived by his wife, Jamie Diane Stillwell; his two daughters, Diane Richerson and Jordona Perritt; six of his sons, Virgle Clyde Stillwell III, Jason Stillwell, Jared Stillwell, John Stillwell, Heath Stillwell, and Kenneth Stillwell; their spouses; eighteen grandchildren and nine great grandchildren; his brother Oliver H. Stillwell; along with numerous nieces and nephews.
Clyde was born in Kilgore, TX on April 6, 1943 and spent his early childhood traveling the world with his father who was in the U.S. Air Force. He had a proud memory of being a school crossing guard during the fourth and fifth grade. During middle school while his father was serving an unaccompanied assignment in Germany his mother moved the rest of the family to live with his Little Grannie Phillips on her 160 acre ancestral farm about eight miles northwest of Cisco, TX. His family moved to Hyattsville, MD in 1957 to rejoin his father for one year before moving back to his Little Grannie's farm for the rest of his high school years while his father was serving in Japan. In August 1960, on his first band trip, he met the love of his life, Jamie Diane Rawson, who introduced him to The Church of Jesus Christ of Latter-Day Saints. In writing about his conversion, he noted that he was impressed by the things he had seen and heard from the missionaries. He also recorded that Jamie told him that she "loved me too much to marry me outside the temple because she could not bear the thought of having all the joys of marriage and family end with death."
Clyde attended Tarleton State in Stephenville for a year and a half before transferring to Texas A&M in January 1963. On September 11, 1963 while on a summer break from college he was baptized in Abilene, TX, confirmed a member, and ordained as a Deacon in the Aaronic Priesthood of The Church of Jesus Christ of Latter-Day Saints. After returning to Texas A&M he continued his progression in the gospel and was conferred with the Melchizedek Priesthood and ordained an Elder on April 11, 1965.
Clyde married "this fine girl" Jamie on Tuesday, June 1, 1965 in the Mesa, Arizona Temple for time and all eternity. They then took residence in Bryan/College Station where his two daughters Diane and Jordona were born. He later moved his young family to Lake Jackson, TX before finally settling in Pasadena, TX in 1971. His seven sons were all born in the same hospital in Pasadena. It is family lore that it is only due to a prenuptial promise made to his bride-to-be that his eldest son also carries on his full name. While they were engaged they were discussing names for children and he said that he would never stick his name on another person. Jamie then took off her engagement ring, gave it back to him, and said "I thought we were going to get married, but since you wouldn't stick that name on anyone, I guess not." Clyde replied, "Just put the ring back on and you can name our first son anything you want to." While his sixth child Norman sojourned on this earthly plane for only a few brief hours of June 17, 1975 he was always steadfast in his belief that he would be reunited with him in the eternal life that follows this mortal existence. His children always knew that little Norman was waiting for them in heaven.
He loved each of his children deeply and left them with many fond memories. Some of which include his love of making ice cream, creating hand-crafted rings from copper wire, Scouting, his joy in solving puzzles, playing dominos and card games, as well as his ability to never meet a stranger. He was always quick to pull over to help a stranger stranded on the roadside and lived out his life according to two of his favorite hymns, "A Poor Wayfaring Man of Grief" and "Because I Have Been Given Much". Clyde was an active member of the Pasadena, TX First Ward of The Church of Jesus Christ of Latter-Day Saints for 39 years and continued his activity in the church as a member of the Eastland, TX Branch of the church from 2010 until his passing.