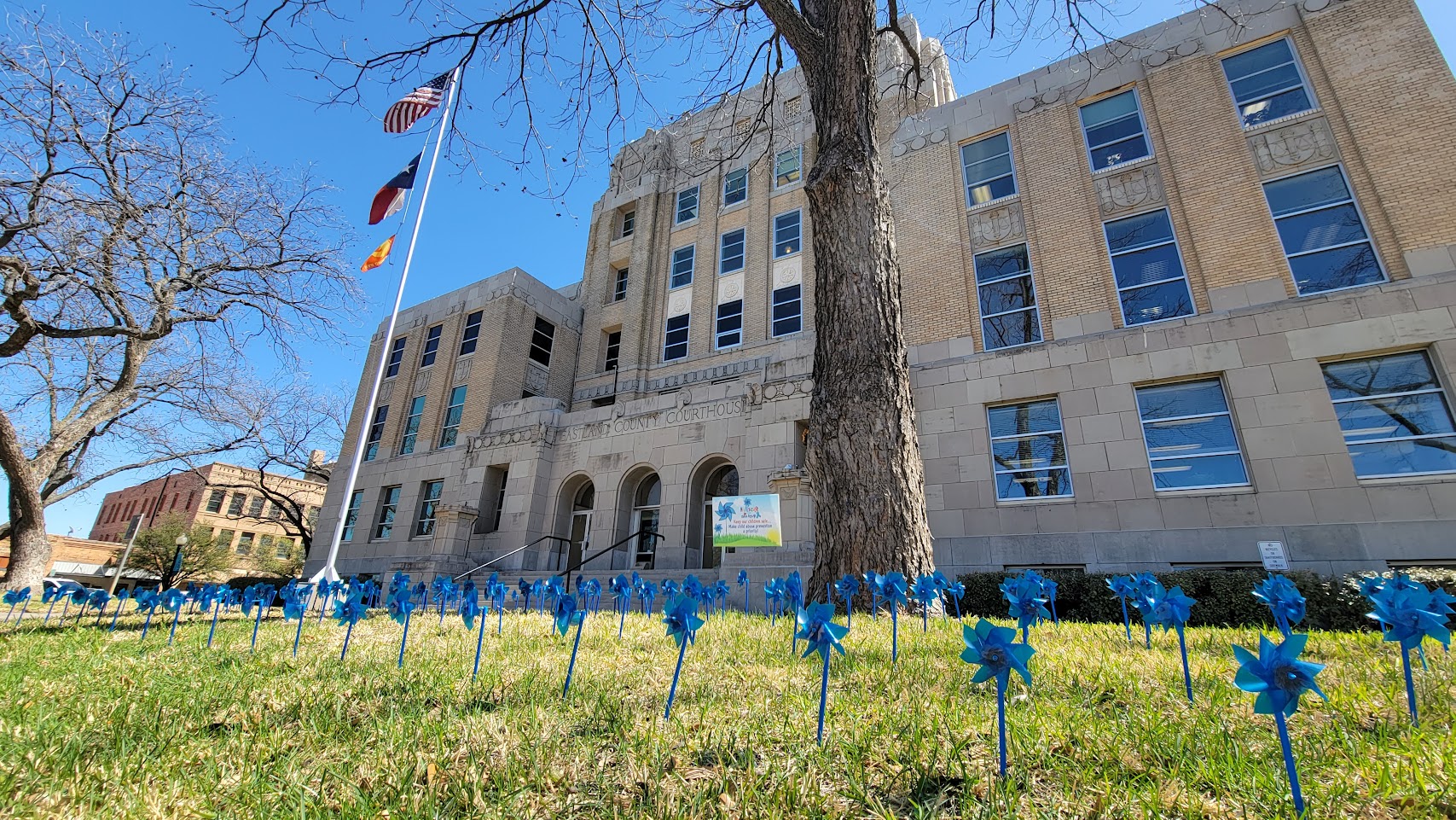 Eastland County Commissioners proclaimed April as Child Abuse Prevention Month. Judge Rex Fields read the proclamation in front of the Eastland County Courthouse April 6th. The courthouse lawn is decorated with blue pinwheels to bring awareness to the child abuse prevention campaign. Pinwheels for Prevention® is a national campaign that began in 2008. A sign on the lawn states "No Excuse for Child Abuse. Keep our Children Safe…. Make Child Abuse Prevention a Priority".
April is Child Abuse Prevention Month Proclamation
WHEREAS, preventing child abuse and neglect is a community problem that depends on involvement among people throughout the community;
WHEREAS, child abuse prevention works when partnerships created between parents, practitioners, schools, faith based communities, health care organizations, law enforcement agencies, and the business community;
WHEREAS, family-serving, youth-focused prevention programs offer positive alternatives for young people and encourage parents and youth to develop strong ties to their communities;
WHEREAS, child abuse and neglect not only directly harm children, but also increase the likelihood of criminal behavior, substance abuse, bullying, and risky lifestyle behaviors;
WHEREAS, all citizens need to be more aware of child abuse and neglect and its prevention within the community, and be involved in supporting parents to raise their children in a safe society;
NOW, THEREFORE, we, Judge Rex Fields, and members of the Eastland County Commissioners hereby proclaim April as Child Abuse Prevention Month and call upon all citizens, community groups, religious organizations, medical facilities, and businesses to increase their participation in an effort to prevent child abuse and neglect, there by strengthening the community in which we live.
County JudgeRex Fields
County CommissionerAndy Maxwell
County CommissionerJames Crenshaw
County CommissionerRonnie Wilson
County CommissionerRobert Rains