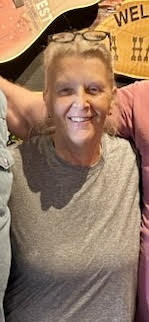 Judith "Judy" Ann Rodgers, 70, of Ranger, Texas, departed this life on Sunday, 12 November 2023, at her residence. She was born on 25 January 1953, in Bradford, Pennsylvania, and was the daughter of the late William Earl Terwilliger Sr. and Donna June Terwilliger.
Judith met the love of her life, Donald, in high school. They married in September of 1971 and moved to Fayetteville, NC to begin their Army life together. The Army took them to Ft. Huachuca, AZ, Hohenfels, GE, Nürnberg, GE, Sacramento, CA, Ft. Worth, TX, and finally retiring in Ranger, TX. They shared 53 years of love and devotion to each other.
Prior to her retirement, she worked for the Fort Worth ISD, Administrative Assistant to the Deputy Director.
Family was everything to Judy. She raised two children: Donald P. Rodgers Jr. and Jennifer J Olson. The family grew with spouses, grandchildren, and even great-grandchildren. She centered her world around them. She held many titles: Judy, Mom, Grandma, and friend. She was the best listener, gave the best advice, was always there for friends and family. Judy was the strength and glue that kept her family together.
Judy is survived by her husband, Donald P. Rodgers Sr. of Ranger, Tx., her daughter Jennifer Olson (Ed), of Euless, TX, and her son Donald P. Rodgers Jr. (Teresa) of Christiana, TN. She is survived by her seven grandchildren, Jordan Rodgers, Tyler Ames, Jamey Rodgers, Chase Olson, Tristian Smiley, Logan Rodgers, and Bradyn Olson. She also has four great grandchildren, Jaxon Rodgers, McKinley Rodgers, Ayden Ames, and Brooklyn Ames. She is also survived by her sister Cecilia Cobb (Patrick) of Old Town, FL, and her brother Ronald Terwilliger (Lori) of Bradford, PA.
A funeral viewing service will be held from 2 – 4 p.m., on Monday, November 27, 2023, at the Edwards Funeral Home, 411 S. Mulberry St, Eastland TX.
Memories and Condolences can be shared at http:// https://www.edwards-funeral-homes.com