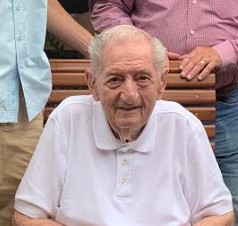 Joe "Sonny" Louis Poydock Jr., 92, passed away peacefully on Tuesday, December 13, 2022. Rosary will be held at 10:00 am, Friday December 16th at St. John's Catholic Church, 126 Hickory St. Strawn, Texas 76475, followed by Mass of Christian Burial at 11:00 am. Burial will follow in Mount Marion Cemetery, 701 Grand Avenue, Strawn, Texas 76475.
Joe was born and raised in Strawn, Texas to parents Joe and Victoria Lovera Poydock. He is a 1947 graduate of Strawn High School. In 1951 he was drafted into the Army and sent to Korea in the Military Police. Joe had a great love for music. So, when he returned home from the Army, he formed a band called the Western Swingsters. When he discovered another love of his life Emma (Louise) Dendy he then gave up the band. He then pursued a career with Lone Star Gas and retired after 30 years of service.
Joe was preceded in death by his parents, his wife, his daughter Joel and 2 sisters Anita Walton her husband Billy Dan Walton and Martha Nowak.
Survivors include son, Randy and his wife Marlene; 2 grandchildren, Meghan Mullinax and husband Elliott and Corey Poydock and wife wife Bayley; 4 great-grandchildren, Emma, Evelyn, Easton and Payson; brother n law, James Nowak; and 6 nephews.
In lieu of Flowers please consider giving to St. John's Catholic Church, 126 Hickory St., Strawn, Texas 76475 or to Mount Marion Cemetery Association, P.O. Box 5, Strawn, Texas 76475.