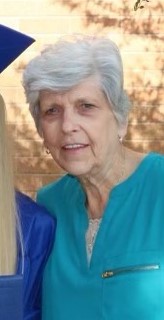 EASTLAND – Jane Ellen Finley, 78 of Eastland, passed away Thursday September 1, 2022 in Eastland. Visitation will be at 1 p.m. Sunday at Edwards Funeral Home, 411 S. Mulberry St, Eastland, TX. Graveside services will follow at 2 p.m. Sunday at the Eastland City Cemetery.
Jane was born on February 15, 1944 in Albany, TX to Arthur Mayers and Vera Cole Mayers. She graduated from Eastland High School in 1962. She was a Baptist and enjoyed gardening and collecting Coca Cola memorabilia. She was the owner of a Chevron store (Jane Stop and Go) in Cisco. Also, she was the manager at Dollar General for several years.
She was preceded in death by a son, Jeff Finley; and a sister, Geniva Hudson.
Survivors include 2 sons, Jody Finley (Nancy), Jon Finley (Sheryl); a daughter, Jana Cowart (Jeff); a brother, Clarence Mayers; 7 grandchildren, Will Johnson, Justin Finley, Jeremy Finley, Julie Finley, Jordan Cowart, Tyler Staggs, and Wyatt Staggs; and 1 great-grandchild.
Online condolences may be left at www.edwards-funeral-homes.com.