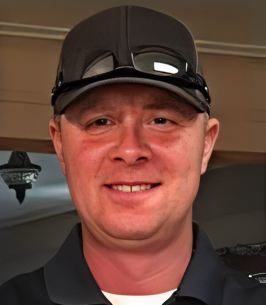 Brandon T. Brooks, 50, of Comanche passed away March 26th, 2023, near Llano, TX. Visitation will be held Wednesday, March 29th from 6:00 pm – 8:00 pm at Comanche Funeral Home followed by service Thursday, March 30th at 2:00 pm with burial immediately following at Gardens of Memory on Hwy 16.
Brandon was born March 8th, 1973 in Stephenville, TX to Albert Brooks and Rhonda Woods. After Comanche High School, Brandon lived a free-spirited life around Texas before he began taking flying lessons. Brandon became an accomplished professional pilot and was well-known for his ability as "stick and rudder" among his fellow aviators.
While gaining traction on his career, Brandon became the father of two beautiful children: Robert Allen Brooks, 25 and Madison Renee Brooks, 21.
On April 16th, 2011, Brandon married the love of his life, Amy Diaz in Comanche. Brandon, Amy, her son Skyler, Rob and Maddie became a family and started a new chapter in their lives.
Brandon was always lured by the speed of turbine-powered airplanes and hot-cam Harley-Davidsons. An avid rider, he enjoyed long haul cruises on the sunny days of Central Texas' winding roads. After enough wind in his face, he was known for his "kickback Cadillac" style and deep discussions on the back porch while enjoying his favorite blend of Shiner with Shiner Dog in his lap.
His magnetic personality was well-known among peers and family. He gave everyone a fair chance to sit down and figure out the meaning of life with Pork Chops on the grill. If the conversation got too deep or opinions got too heated, his wife "The Spicy One" would make sure he was anchored.
Brandon is preceded in death by his grandfather William Suggs, and father, Albert Brooks and survived by his grandmother Billie Jean Suggs, mother Rhonda Woods, brother Dustin Woods, brother Cody Woods, brother, Brian Brooks, sister, Kim Warrick, sister Leisha Elrod, wife Amy, son Robert Allen, daughter Madison Renee, stepson Skyler, granddaughter Stevie and numerous uncles, aunts, nieces, nephews and cousins.
Pallbearers include Adam Diaz, Anthony Arreola, Stacy Carr, Riley Hilliard, Bryan Elrod, Cody Woods, Justin Fraley, Todd Bearden, and Dustin Woods.