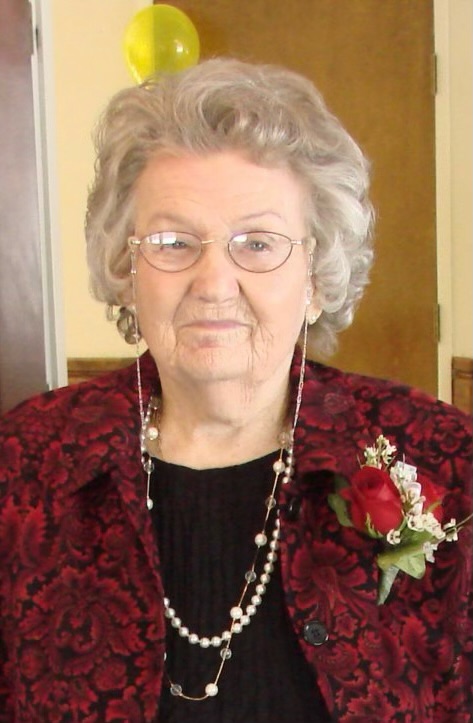 On Wednesday, May 11, Mildred Owens Robertson, age 102, had an exciting reunion with her family in heaven. Mildred was born in Bonham, Texas on February 13, 1920 to Edgel and Opha Morgan Owens. When she was a toddler, they relocated to the Weinert community where Mildred grew up and graduated from Weinert High School with the class of 1938. Mildred met the love of her life, N. A. "Al" Robertson, and they were married on November 25, 1938. When Al joined the Navy, Mildred started working at General Dynamics in Ft. Worth where she installed radio operator seats. After the war, she worked for Educator Life Insurance Company and later obtained a beautician's license. Mildred had a natural talent for styling hair and had been fixing hair since she was in high school. She was always willing to do someone's hair, whether they be a friend, relative, or someone in the nursing home who did not have the money to pay. Mildred was also known for making desserts. She always had a cake made and ready to deliver to anyone in need. Mildred was an avid Dallas Cowboy fan and loved "find the word" puzzles. She was a member of the First Baptist Church of Ranger and a lifetime member of The Order of Eastern Star. Most of all, she was known for her joyful spirit and wit. Mildred was a blessing to be around and was a positive influence in the lives of her family and friends. Many of her family affectionately called her "Auntie." She and Al were married just shy of 74 years when he passed away July 27, 2012 in Ranger, TX. Mildred relocated to Abilene, TX shortly thereafter. She enjoyed working puzzles, playing dominoes, bingo, and participating in all activities. She moved to Oklahoma in July of 2017 and spent the rest of her days living close to her brother Donnie and family.
In addition to her husband and parents, Mildred was pre-deceased by infant brothers Wade Malone and Bennie Dee; brothers Marion (Stumpy), Bobby, Kenneth; and sisters Helen and Patsy.
She is survived by: one son, Jim of Hico, TX; her youngest brother Donnie Owens and wife Donna of Medford, OK; her sister-in-laws Jodelle Owens, Ida Jo Owens and Bea Owens; and many nieces and nephews who dearly loved her.
Graveside services will be Wednesday, May 18th at the Weinert Cemetery near Weinert, TX.
In lieu of flowers, memorials may be sent to Weinert Cemetery Fund, P. O. Box 188, Weinert, TX 76388 or to the Wakita Community Health Center's generator fund, 1153 Cherokee, Wakita, OK 73771.