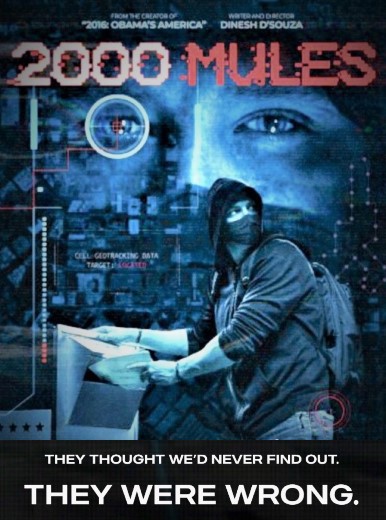 Tea Party Patriots of Eastland County invites you to a free screening of a stunning new documentary, 2000 Mules. This will be in the Big Dam Room of the Myrtle Wilks Community Center, 1498 West I 20, Cisco, at 6:30 p.m. on Thursday, May 12.
"Highly respected Dinesh D'Souza, working together with Catherine Engelbrecht of True the Vote, just released a trailer to their new movie, 2,000 Mules, that shows the world exactly how the 2020 Presidential Election was Rigged and Stolen," says former President Donald Trump.
Roman Balmakov with Epoch Times writes, "After two years of research, an election watchdog group uncovered a massive ballot harvesting scheme across at least six different states. Using cell phone tracking data, surveillance footage, and interviews with inside whistleblowers, they mapped out how 4.8 million ballots were trafficked illegally during the 2020 presidential election."
Doors open at 6:00; join us early for best seating.